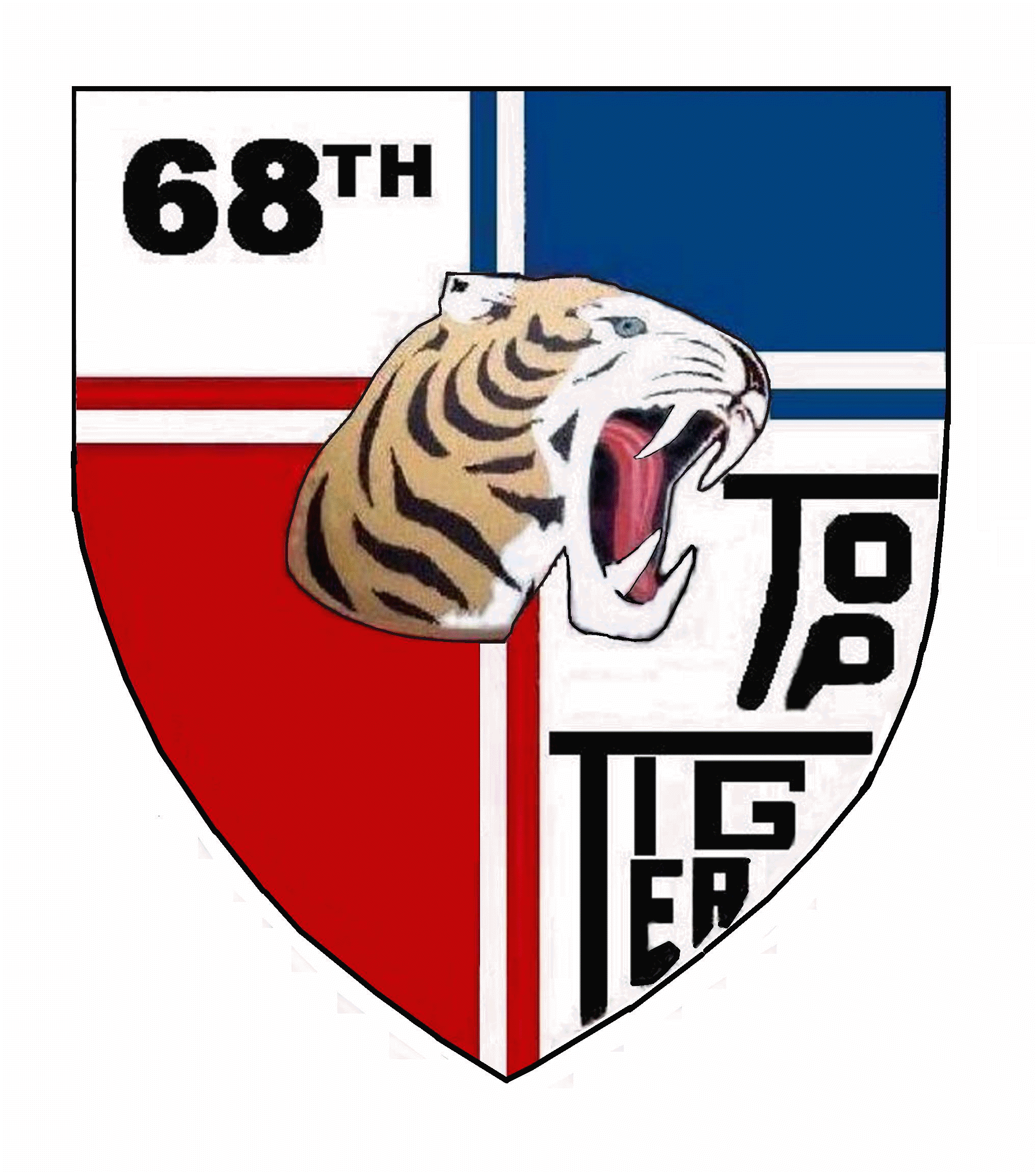 THE 68TH ASSAULT HELICOPTER COMPANY ASSOCIATION
JULY 2012 NEWSLETTER
REUNION DATES 9/20/12 TO 9/23/12
Greetings Top Tigers,
The reunion is only two months away so allow me to give you a status report on our reunion. It is at the Hilton Hotel and Conference Center in Marietta, Ga., a suburb of Atlanta, from September 20th to the 23rd. It is simple to register for the reunion, just go to our unit website, www.68thahc.com, and follow the links on the home page to the reunion information. It is not too late to get registered and make your hotel reservations. Hotel reservations are just one phone call to the hotel at their toll free number: 1-888-685-2500. Be sure to mention that you are with the 68th Assault Helicopter Company Reunion or use the Group Code: "SEHC" for our special rates. As "Larry the Cable Guy" would say, LET'S GET'ER DONE!!
DON'T HESITATE – GET SIGNED UP NOW!
Starting on July 25th we will open up the auction and bidding on a Junior Suite at the hotel. Bidding will close on August 15th. Information and rules on the bidding process is available on our website. The Junior Suite is available for three nights, Thursday, Friday, & Saturday. Even if you have already made your hotel reservations you are still able to bid. Should you be declared the winner in the Junior Suite auction Dave Holloway will instruct you on cancelling your previous reservations and have your reservations changed to the Junior Suite.

Bid List - http://68thahc.com/Reunuons/2012_Atlanta/zz_2012_ZZ_%20Atalanta%20Room%20Auction/K68_68th_Hotel_Room_Auction_001.htm

Submit a bid form - phone or email - http://68thahc.com/Reunuons/2012_Atlanta/zz_2012_ZZ_%20Atalanta%20Room%20Auction/K68_68th_Hotel_Room_Auction_Email_Form_02.htm
Probably the most exciting event will be the Huey Rides on Saturday morning. We have secured the heliport at the Marietta History Museum's Aviation wing, only a mile from the hotel, as our staging area for the Huey Rides which will be supplied by the Army Aviation Heritage Foundation in Hampton, Ga.
For $45 you get a 10-12 minute ride, which for many of us, may be our last chance to go for a ride in the best helicopter ever made. Who can ever forget the whine of her engines and the Whoop! Whoop! Whoop! of the rotor blades? It is a doors open ride, so strap in, sit back, and think of the many times she took us into battle and safely home, day after day.
There will be plenty of time to visit with your fellow Top Tigers in our Hospitality Suite that will be supplied with soft drinks, beer, wine, & snacks. You can also spend time taking in some of the sights around Marietta Square, just a mile from the hotel, with a quaint park in the center surrounded by numerous restaurants, museums, art galleries, antique and specialty shops.
There is a golf course right on the site of the hotel. For those wanting to play there will be tee times set up for Friday for our group.
Our Business Meeting will take place Saturday afternoon, at which time we will select board members and decide on our next reunion location. We will have our usual Saturday Evening Dinner, preceded by a cocktail hour and photos.
The Personal Interview DVD's taped at the 2010 Reunion will be available for you. The DVD is a great way to remember your fellow Top Tigers and some of their interesting stories about the 68th and their time in country.
Linda Hingson, widow of WO Paul Hill, will be a special guest at this year's reunion. Linda is very active in the VFW and is looking forward to meeting many of you who knew Paul.
If you want to attend the reunion, but are having a hard time making ends meet and need some financial help, we have a special fund setup for just such assistance. The Tiger Fund can help you defray some of the cost. It is handled confidentially so that only three people know. You need to contact Frans VandenBroek at fvandenbroek@appliedmedical.com to start the simple process. The fund was established for those who need a little help to attend a reunion, so use it if you need too.
If you have visited the unit's website lately you probably know that the Henderson Defense Company in Henderson, NV, just outside Las Vegas is restoring a C-Model Huey, which they purchased in several parts. After visiting our website they decided to restore the aircraft using the unit markings of the 68th. Once restoration is complete the aircraft will go on display at their museum site just off the Vegas Strip. Sheldon Maxwell, who is heading up the restoration project, is hoping to attend our reunion, so he can video tape some personal interviews with our members. He intends to put together a documentary film clip about the war, the 68th and its members, to be shown at the museum. This is a great tribute to all the members of the 68th and its' supporting units.
Looking forward to seeing you in Marietta in September.
Dave Holloway, President 68th AHC Association
"Top Tiger 49" & "Mustang 26"