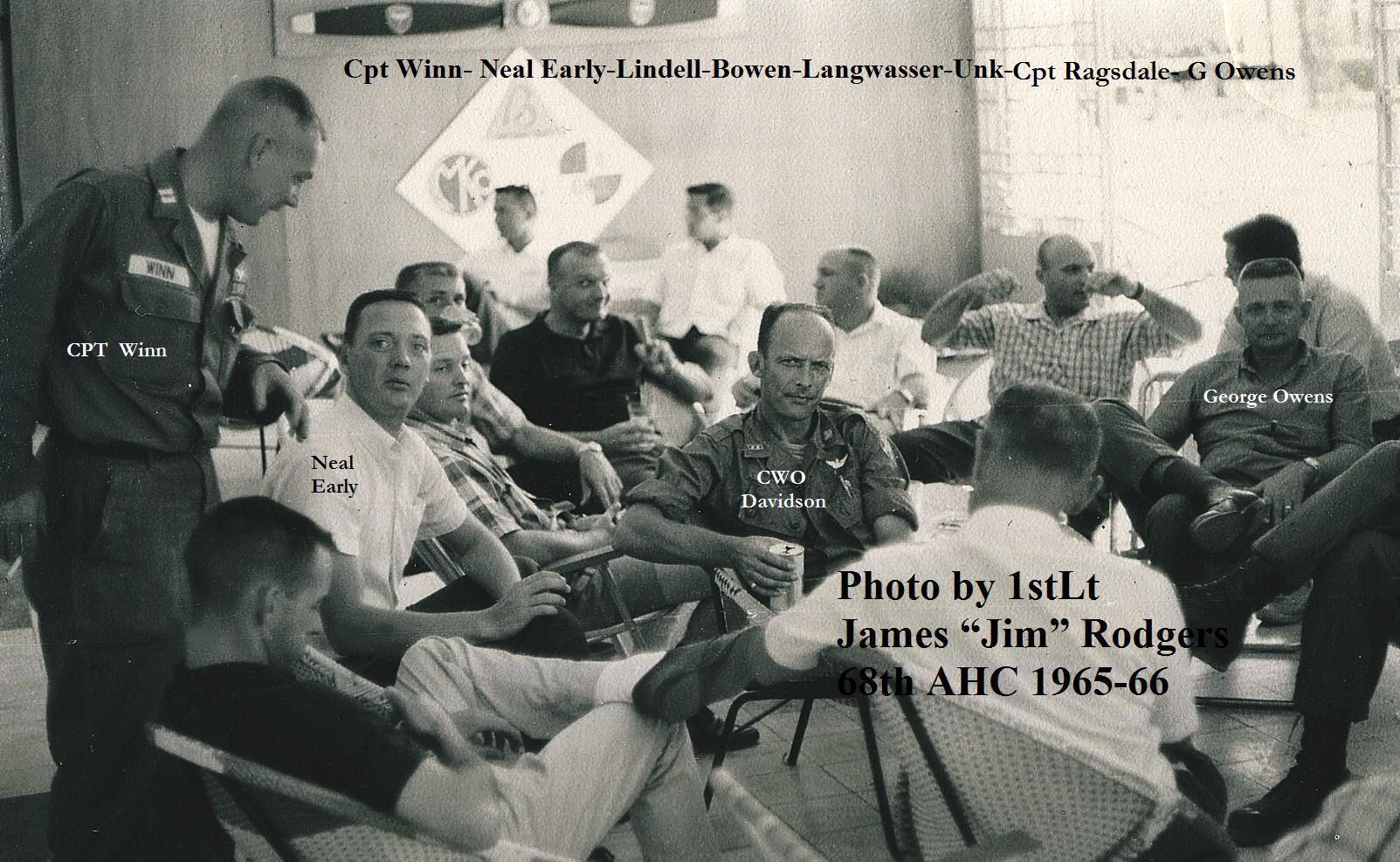 Click on Photos
to Enlarge
Then
Arrived in unit: Aug. 1965 - Major

Departed unit: Apr. 1966 - Major
Duties in unit: Pilot - Lift Commander 1st Lift Platoon
Other Assignments: In April 1966 assigned to the 118th AHC Thunderbirds as unit XO.
Two weeks later when the CO was wounded in a hot LZ and had to be Medivaced,
George was promoted to CO, over several more senior officers.

1950 Served with the Old Guard at Ft. Meyers, VA, where he met Lorraine.
1952 – attended Infantry OCS, designated 2nd Lt USA Infantry
1953 – Sent to Korea, the war ended six months later and he continued to
serve there with the occupation forces until 1954.

1956 Gary AFB, TX Fixed Wing Training
1956 Fort Rucker, AL for Operational fixed wing training
1956-1958 Assigned 14th/1st Aviation Company, Pilot DHC 3 Otter.
1959 Camp Wolters Helicopter training
1959 1961 2nd Inf Brigade Helicopter Pilot
1961 1963 13th U S Army Corp Aviation Officer/ Commanding General Pilot and Aide
1964-1965 Germany, CO. Helicopter Unit and Airfield Cmdr.
1965 Volunteered for special assignment flying UH-1's, unit to form up at Ft Benning.
The pilots were to be assigned to a newly formed unit the 68th AHC.
1965-1966 68th AHC, Flight Platoon Leader of 1st Lift Platoon
1966- XO and CO. of 118th AHC
1966-1967 Aviation Officer 13th U S Army Corp
1967-1970 Post Aviation Officer / Ft. Devens. MA Army Airfield Commander.
Training:

1948 Basic Training, Ft. Jackson, SC;
1948 3rd inf. Bde.
1948-1952 Post Athletic Dept.
1950 Basic Training, Ft. Devins, MA;
1952 OCS Ft. Benning, GA.
1952 - Infantry OCS, Ft. Benning, GA; Jump School, Ft Benning, GA; 1956 Gary Air Force Base San Marcos, TX, Fixed Wing Flight School; 1959 (July - Aug) Ft Wolters, Mineral Wells, TX;
Safety Officer School, Monterey, CA.
Retired Army: 1970 LTC
Now
Current Residence: Shriley, MA
Occupation:
Family: Wife:
Hobbies:
Email: gwowens133@hotmail.com last update to email Jun 2010
| Main Page | Unit (History) Reports | List of Unit Members |
| Members Biographies | List of Contributors to this website |